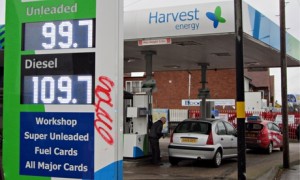 The UK has finally seen had it's first taste of sub £1.00 a litre fuel as three forecourts in the West Midlands dropped their petrol price to just 99.7p a litre.
The Harvest Energy garages in Birmingham, Redditch and Walsall have undercut all the major four courts in the UK, with prices not seen in more than five years.
Dr Velautham Sarveswaran has told the MailOnline, "The supermarkets continue to make a fortune without passing the price cuts to their customers. It is a scandal. They are cheating people,". He claims to still be able to make money from his record breaking prices.
It is a scandal. They are cheating people
Motoring group, the RAC welcomed the news of the Birmingham service station price cut with fuel spokesman Simon Williams stating that the Birmingham factor was "clearly having a ripple effect on the supermarkets".
The "big four" supermarkets retailers have now confirmed they will be making further cuts but it's doubtful that we'll see any offering prices below the magic £1 mark.
Many analysts are already asking how an independant fuel retailer can offer such low prices with their limited buying power compared to the might of the "big four". Many have been suggesting that the fuel retailers are hanging onto inflated fuel prices amists the crash in oil prices across the markets.