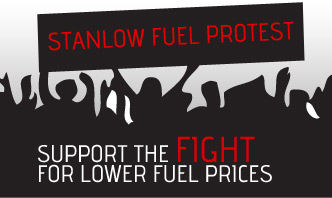 The second round of the Stanlow Fuel protests was deemed a huge success by the organiser Ian Charlesworth. With over 120 people and 80 cars, they managed to disrupt tanker movements from the refinery and blockaded the road for four hours.
Speaking  to the Ellesmere Port Pioneer before the event, Ian said: "It is all about getting the message out. Even if only 10 people turn up it's fine. We don't need to go to the gate this time as it is taking place on a public highway instead of private property. The police know we are going to create a blockade but once we have made our point we will be asked to move on. We have requested that sensible policing prevails but we don't have any firm plans at the moment. We could end up staying until midnight or 6am, I just don't know. A lot depends on what level we feel people are prepared to stay. There will be a 4p increase this week and it is far too much. It has got to stop."
Cheshire police warned protesters of the potential consequences of a blockade, however no reports of police action at the event have come to light.
The next round of protests have been planned for March 11, where protesters will be taking a different approach against the refinery.
We'll keep you updated.