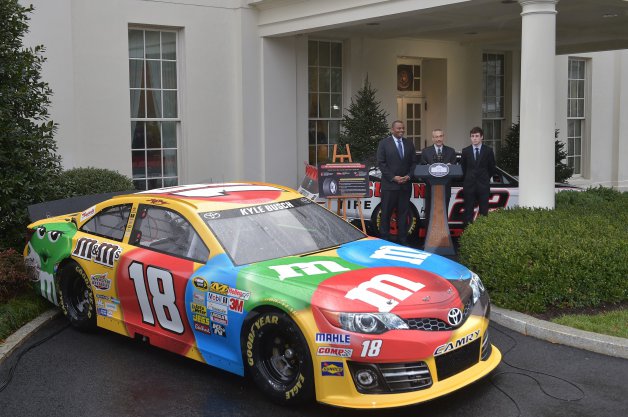 You wouldn't instantly put Nascar and fuel efficiency together but in this bizarre partnership, the White House and America's favorite motorsport have teamed up to promote fuel efficient tyres.
According to figures from the National Highway Traffic Safety Administration,  its claimed that if only ten percent of Americans fitted low-rolling-resistance tires to their cars, it would net a $200 million reduction in fuel consumption and a drop in pollution by some 690,000 tons each year.
This rather impressive claim is why the US Government is raising public awareness of efficient tyres and the benefits they provide.
It's all well and good parking a nascar in front of one of the most secure and recognizable buildings on the planet but what exactly are low rolling resistance tyres? In a nutshell, low rolling resistance (or eco) tires minimize wasted energy as a tire rolls, thereby decreasing required rolling effort. It's estimated that an LRR tyre can increase efficiency up to 15% in some applications. This efficiency increase also reduces vehicle emissions relative to these gains in miles per gallon.
While its accepted that LRR tyres can play their role in reducing emissions and saving fuel, theres still the matter of correct tyre pressures that can play just as much as important factor in your fuel efficiency and safety whilst not costing you a penny to rectify (foot pump at the ready!)
Under inflated tyre pressures can reduce your car's MPG by up to 10%
According to our own very popular and critically acclaimed Hypermiling Techniques page, ensuring correct tyre pressure is vital to maximizing your miles per gallon. In fact, an under inflated tyre can reduce your car's MPG by up to 10% in some cases. Under inflated tyres also increase tyre wear and affect handling.
So before you reach for the debit card and equip yourself with a nice set of LRR Eco Tyres, check your tyre pressures first. You'll save money at the pumps, require tyres less often and ensure your car handles as it should.
[ad]