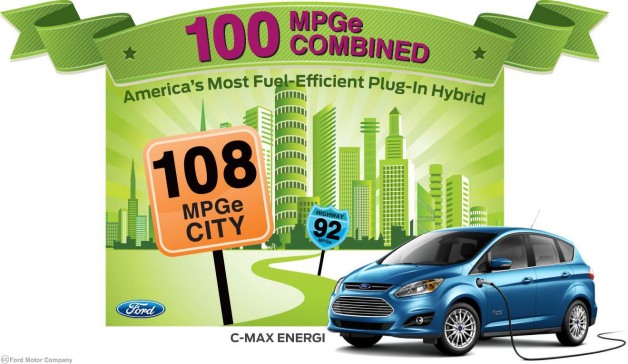 Ford's new C-Max Energi has been named the US's most efficient plug-in hybrid after confirmation that it will officially return a rather impressive 108MPGe city.
It's combined rating issued by the US Environmental Protection Agency (EPA) has also been confirmed at 100MPGe, putting it 5MPGe in front of Toyota's green flagship Prius.
The C-Max is powered by a 2.0l Petrol engine mated to an electronic continuously variable (e-CVT) transmission. Combined with its electric engine, it will output an impressive 195BHP. Fully charged, Ford say that it will have an effective EV only range of over 20 miles and will be capable of 85MPH.
In a press release from Ford claimed, "Over the course of five years, C-MAX Energi customers could save nearly $7,000 compared with the average new vehicle, according to the federal EPA label. Comparative savings could go even higher if the current trend of rising gas prices continues."
Reviews so far have been very positive for Ford's fuel sipping crossover, Toyota certainly have something to worry about when the car hits show rooms in the US this "Fall".