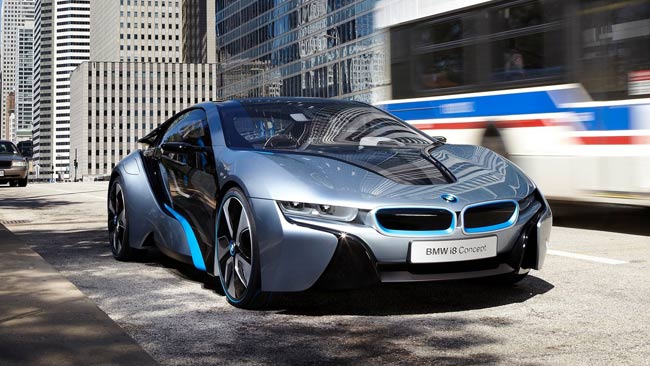 With the fan fare of the i3 now over, we thought we'd take the chance to introduce the next in the line up of BMW's i brand: the i8.
The i8 has been around in concept form for 4 years now but BMW has now finally released final specifications that could make this sporty 2+2 hybrid a real game changer.
Unlike the i3, the i8 features a "twin drive" system with a 1.5 litre turbo charged engine powering the rear wheels while a 131bhp electric engine drives the fronts. This system gives the car a total power output of 362BHP with a massive 420 lb-ft of torque when full sport mode is engaged.
Just 363bhp might not sound that impressive compared to the likes of many other "hybrid" super cars of today, however BMW claim that the i8 will achieve 95MPG while being capable of 0 – 60 MPG in 4.5 seconds. Couple this with a range of 22 miles on battery power alone and an impressive 3 hour battery charge time, the i8 seems to tick all the right boxes.
Like the i3, BMW have worked hard to keep the weight down on the i8 with use of an impressive array of lightweight materials and technology. Like the i3 it features a carbon fibre "life" module made from carbon fibre reinforced plastic. The i8 will also feature use of gorilla glass as seen on your smart phone and also liberal use of aluminium across the whole car including some of its wiring.
BWM's fixation with weight and technology brings the i8 in just 200 pounds more than a Porsche 911, with a price tag expected to be no less than £80,000.
Hoping to tempt buyers for the i8, BMW will be parading it's hybrid super car at this years Frankfurt Motor Show. For those with deep enough pockets, the i8 should be arriving it dealers in late 2014.
[ad]