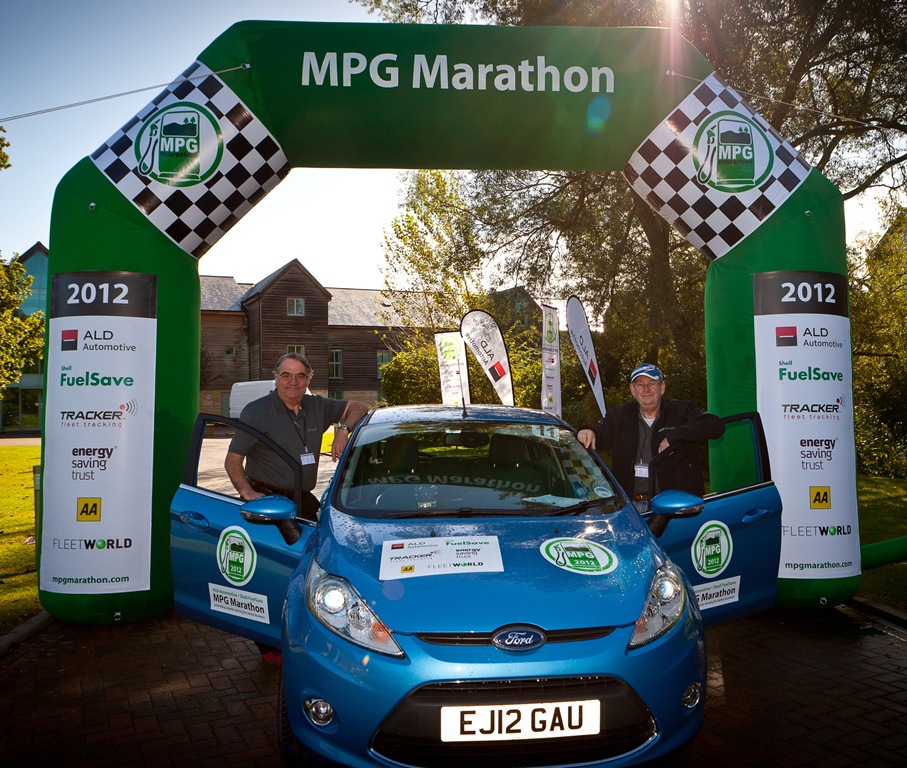 This years MPG Marathon has come to an end with some record breaking results. 2012 marks the first year a car has achieved over the 100 MPG mark, in fact 2 teams managed to break into the hundreds.
A Ford team piloted by former rally drivers Andy Dawson and Andrew Marriott  secured the overall victory at the wheel of  a Fiesta ECOnetic 1.6 TDCi, they achieved an epic 108.78 MPG over the 370-mile route.
Runners up Mick Linford and Steve Croughan in a Kio Rio 1.1 CRDi eco managed an equally impressive 102.21 MPG with third place belonging to a Peugeot 208 e-HDi piloted by Chris Russon and Kevin Jones with 93.4 MPG.
Before you dismiss the astounding results, the 370 mile course / two day course was run on real roads with real driving conditions. The drivers experienced all types of road and traffic conditions during the event and had to adhere to a strict time limit.
The MPG Marathon event organiser Ross Durkin commented on the results saying,  'This year's MPG Marathon will be remembered for the two teams who beat the elusive 100mpg barrier – both superb performances.
The drivers had strict time limits to make sure they kept up with traffic and had a number of hold-ups to deal with along the way. The motor manufacturers and technology suppliers have done a tremendous job in improving the fuel efficiency of all news cars and vans, but motorists should see their published fuel consumption figures as a target to beat, not the maximum achievable."
The event wasn't just about the overall MPG result, the event also highlights participants that achieved the biggest percentage increase over the manufactures figures, the "Percentage Improvement" award. This award was handed to Ian Murray and Mark Armstrong-Read who achieved 84.7 MPG from their Citroen C1 1.0 VTR, an improvement of 28.92% over the manufacturers published figure of 65.7 MPG. Whats even more impressive is that the C1 is powered by a 1 litre petrol engine.
We look forward to giving a further breakdown of the results very soon, but we'll end by congratulating all the participants in the event who highlighted the what MPG gains are achievable when you put your mind to it and put your Hypermiling techniques into practice.