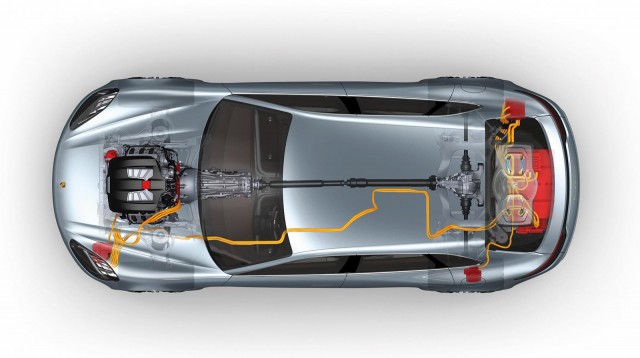 Dr Martin Winterkorn, CEO and Chairman of the VW group has revealed that they will fully commit to Hybrid technology and will introduce seven plug-in hybrids over the next three years. Speaking at the VW Group evening just Dr Winterkorn called hybrid technology "the best of both worlds."
The group has just confirmed the first it's new breed of hybrids at the Paris Motor Show, revealing the Porsche Panamera Sport Turismo Concept. It features a 328bhp 3.0-litre V6 petrol engine combined with an 83bhp electric motor. This will give the Panamera a healthy 411bhp combined with Co2 emissions of less 82g/km while being capable of more than 80mpg. Impressive statistics indeed for car which is likely to weigh more than two and a half tonnes and is capable of rocketing to 60mph in less than six seconds.
At present the Panamera Sport Turismo is still in the concept stage however the hyrbid drive train system is due to be introduced into the face lifted Porsche Panamera in 2013.
The group has already shown it's still fully committed to continued development of its existing models and technology with the latest generation Golf and the new Volkswagen Up!. Unlike the vast array of expensive EV and hybrids hitting the market, the UP! has gone back to basics. The 4 seater city car starts from just £7995 and is capable of 62.8mpg from its entry level 1.0 litre petrol engine, a great result considering the bluemotion variant only offers an extra 6.1MPG. The UP! has been greeted with rave reviews and was awarded the prestigious Car of the Year 2012 by What Car? Magazine.
The Paris Motor Show 2012 has already seen VW reveal its VW Golf BlueMotion concept capable of returning 88.3mpg will emitting just 85g/km of CO2. It's due to hit dealers in 2013.
[ad]