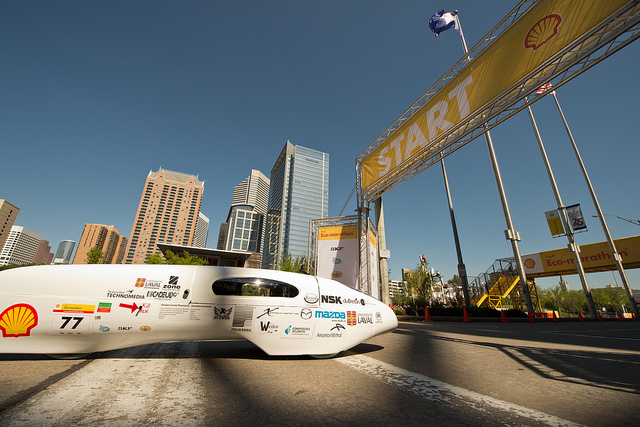 This years all American Shell Eco marathon has come to and end with the winners achieving a mighty impressive 3,587 from the allotted gallon of fuel.
Taking the crown was the team from Quebec's Université Laval in the gasoline prototype category. The result marked a personal best for the team and also a record for the Americas challenge.
The end of the event marks the 7th Annual event which attracts teams from all over the Americas. This year saw 131 Vehicles Participating in the competition set in down town streets of Houston, Texas.
While 3,587 MPG is a very impressive figure, it stands well behind the record of  8,914 mpg, which was set by a French team in 2003.
Mark Singer, global project manager of Shell Eco-marathon said, "What the Laval team accomplished is truly remarkable and it underscores the long way our own cars and trucks can go to improve their fuel efficiency. Each year, dedicated high school and university student teams astonish us with the advances they make in achieving unheard-of fuel-efficiency improvements."
More than 4,000 visitors flocked to support and teams and experience the Shell Energy Lab. The labs was an exhibit that demonstrated how the work of Shell Eco-marathon Americas participants is just one of many inspiring efforts using innovation to solve energy challenges and keep the world moving in cleaner, more energy efficient ways.
The European leg of the event will take place in Rotterdam from 15th to 19th May 2013. Much like this years event in Houston, the course will will be set on a specially designed and more challenging street circuit.
For more information on this 2013 Europen Event visit the Shell Eco-Marathon website