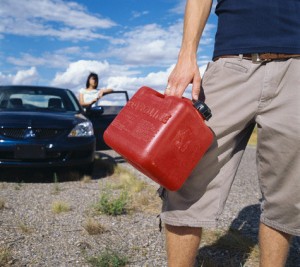 The breakdown service Green Flag has reported a 40% increase in the number of call-outs due to lack of fuel in the second half of January, compared with the same period in December 2010.
They also report that more than a third of these incidents occurred in the last three months during a period when the price of petrol at the pumps has reached record levels.
Dan Robinson, head of Green Flag, said: "There is no hiding from the fact that the constant rises in fuel are affecting drivers nationwide, with almost half now driving on empty.
"For most, driving is a necessity rather than a choice and despite Government speculation about stability, high fuel prices are here to stay, placing pressure on the motorist's pocket.
"We encourage motorists to become more vigilant about filling up to ensure they are not left stranded. It's as simple as keeping an eye on your fuel gauge before setting off, no matter if it's a short trip or a long journey."
[ad]