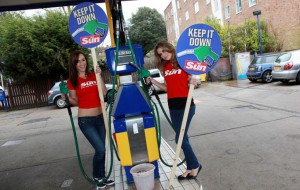 MORE than 150,000 sun readers have now called for action and backed The Sun's Keep It Down petrol price campaign.
The Sun are petitioning  Chancellor George Osborne to scrap the April 1 fuel duty hike or honour a pre-Election pledge to bring in a fair fuel stabiliser.
Their landmark figure of 152,000 signatories was achieved as pump prices hit a new high, with unleaded stands at an eye-watering 129.86p a litre, diesel at 135.11.
Hundreds more drivers and petrol retailers signed up to the campaign yesterday after our Page 3 girls visited the International Forecourt and Fuels Exhibition in Birmingham.
Brian Madderson, chairman of RMI Petrol Retailers Association, said: "The Sun campaign has got the nation going.
Read more on the Sun's Website