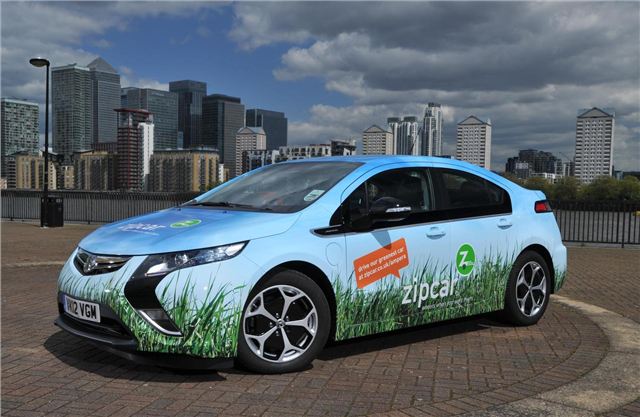 Zipcar has announced a pilot partnership with car Vauxhall, that will see the Ampera join its fleet of self-service, pay as you go vehicles for the next six months. Zipcar is a car sharing service that motorists "borrow" a car for short period of time. The pay as you go service includes all your taxes, roadside assistance, 40 miles of fuel and the congestion charge (if applicable).
The car on offer, the Vauxhall Ampera is basically a Chevrolet Volt in a European suit. As with the Volt, it offers all the benefits of the an EV with a range of 25-50 miles on "electricities" and then an additional 310 miles on a full tank of petrol. The Ampera is classed as a Extended-Range Electric Vehicle (E-REV) and rated at a mighty impressive 235.4mpg. Pricing starts at an equally staggering £37,250 before discounting the £5,000 plug-in car grant (PICG). 
Boosting is status, the frugal E-REV has already been named as European Car of the Year for 2012 and Topgear/What car Green car of the year. I've yet to see one in the flesh but its certainly a looker (with the zipcar decals).
Stewart Gibbs, Vauxhall's New Business Fleet Sales Manager, added: "With the Ampera, Vauxhall has brought to market the first electric vehicle that can go anywhere anytime.  It's a vehicle designed to lower emissions and boost fuel economy, and partnering with an innovative company like Zipcar who is committed to helping the environment, is a partnership we're delighted to be involved with."