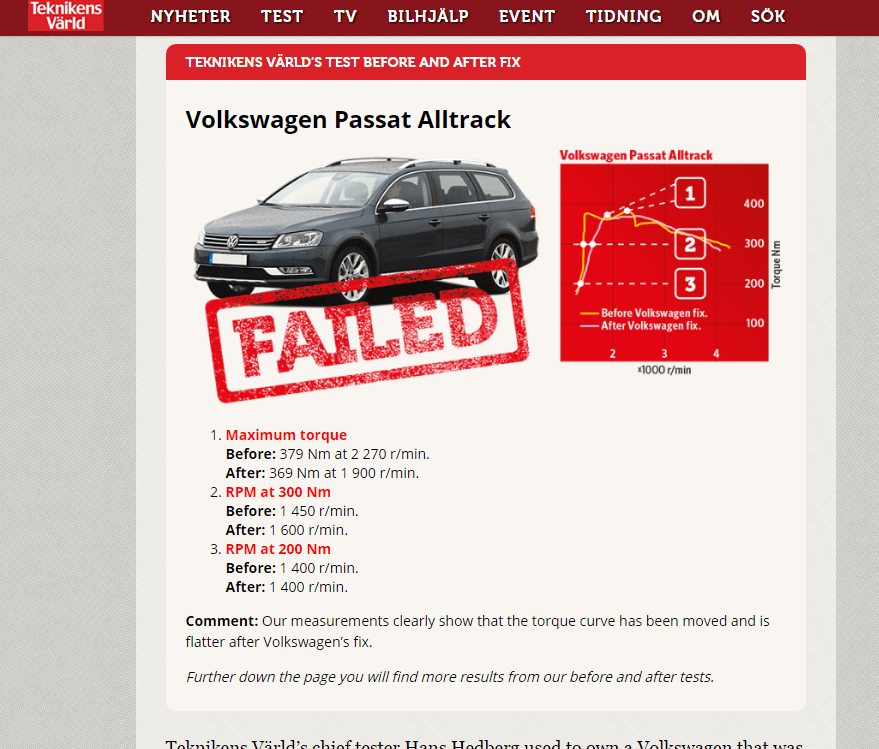 The Swedish motor magazine Teknikens Varld has taken on the might of VW to prove that emissions fix causes negative effects on fuel consumption and power. This is contrary to claims by Volkswagen that the fix does not affect vehicle performance or fuel efficiency in any way.
They tested 10 VW vehicles both before and after the emissions fix recording MPG, Power and Torque on a rolling road. Their exhaustive testing shows that in most cases vehicles responded negatively to the fix, resulting in a reduction in power of around 10% whilst reducing fuel efficiency by up to 4%.
Their investigation shows that (taken from their article – link below)
The results are somewhat different. Some cars have gained power and have a higher fuel consumption, but most cars have lost performance. Both torque and power have decreased after Volkswagen's fix. The loss is as much as ten percent and in addition to that the torque curve has shifted. This means having to push down harder before the acceleration sets in – which makes the car feel weaker. On top of this the tests often show an increase in fuel consumption after the Volkswagen fix.
In effect the owner is not handed back the same car as before the recall. It is cleaner, but often both weaker and thirstier. When a car loses as much as ten percent of its torque it is noticeable in everyday driving, not just on a racetrack or in a lab. It is noticeable in overtaking and towing heavy trailers.
Interestingly, their tests showed that some 1.6 litre diesel models responded positively to the emissions fix. The fix for the smaller 1.6L engines differs to that of the 2.0L models. It requires the fitting of an "air straightener" to change the airflow against the MAF. This could well explain why our survey shows 1.6L engines having fewer reported issues than 2 litre models.
VW Responds
In response to the tests by Teknikensvarld, VW again claimed that the fix has been "independently" tested. Surprising they claim (yet again) that they resulted in no adverse effects. Marcus Thomasfolk, Head of communication at Volkswagen Sweden said. "We rely on an external authority (the German KBA, Kraftfahrt Bundesamt) which has tested the affected cars, approved them and told us that there has been no adverse impact. In addition, several independent tests have been made in Europe and none of them have shown the cars to have been adversely affected"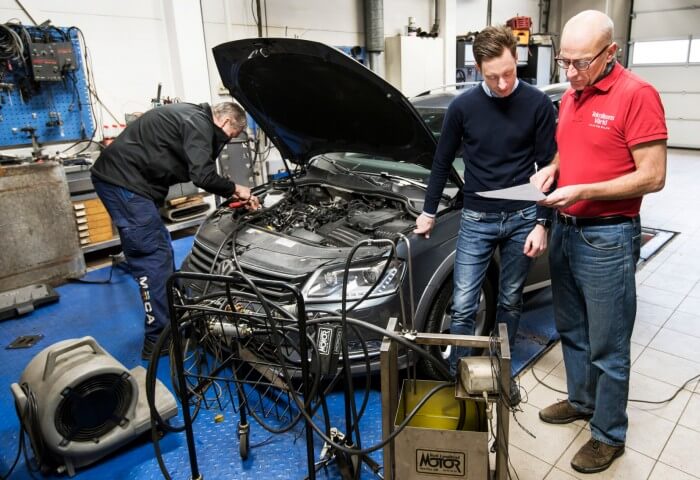 Marcus's comments run the same line as all the other responses we have seen from VW to date, although we're interested to hear details from he "several independent" tests which are able to further substantiate their false claims. As yet we have seen no evidence from the KBA or these other "independent" tests which are at the heart of VW's argument. To be honest, we don't think we ever will.
Check out the full article
You can check out the full article and video on the Teknikens Varld website
Why aren't the UK Government testing the fix?
Despite the public outcry concerning the affects of the UK emissions fix, our spineless officials in Westminster are still dragging their heels. We were encouraged by their strong lines of questioning to Paul Willis (VW Group MD) however this has resulted in very little movement from either side.
The UK government stands back with their fingers lodged firmly in their orifices
While the UK government stands back with their fingers lodged firmly in their orifices, it's VW's loyal customers that are being let down and made to suffer at the hands of VW's criminal practices.
We can old hope that the increased media attention on issues post fix help coax Government officials into further action. This certainly wasn't the case over in the US where VW were made to pay for their dishonest practices.
Who are Teknikens Varld?
We have to admit, were thinking the same thing! Teknikens Varld have been around since 1948 and well known for their testing back in 1997 which resulted in a Mercedes-Benz A-Class flipping on it's lid during the mighty moose test.
More recently they uncovered the new Toyota Hilux 2016 failing the same test. We know you want to see what happens when the moose test takes a victim. The results are in the video below. Enjoy!
Let's hear from you!
Have you had the emissions fix applied to your vehicle? Have you experienced similar issues as exposed by Teknikens Varld? Was the fix applied without your consent? Let us know in the comments. Please give details of the dealership if you can.
Read more!
If you've found this article helpful you might also like to read our other dieselgate – VW emissions fix articles