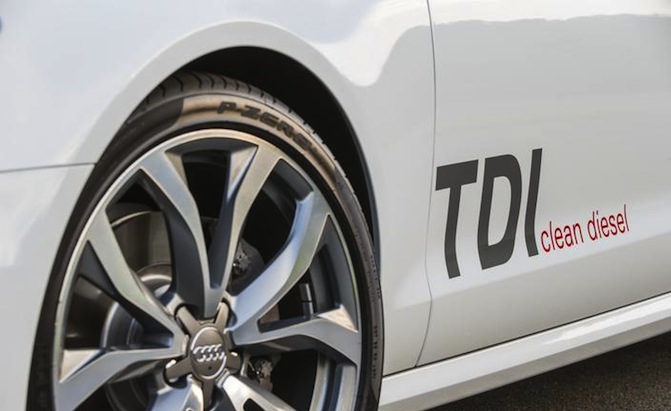 Over in the US, Volkswagen have been given the green light to "flog" their fleet of "fixed" diesel vehicles by the EPA.
In what seems as a massive turn around by US regulators, VW have been given permission to sell off 2015 diesel models to the unsuspecting public. Until now all sales of diesel vehicles have been suspended in light of the emissions issue affecting around half a million cars.
The fix, as we covered in this article is a two phase process that provides both a software fix and replacement EGR & DPF filters. This is in contrast to the fix offered to long suffering UK owners who are not being offered such inclusive repair and warranty packages. Many owners are having to foot the bill for mechanical parts failing due to VW's continued denial of any link between the fix and issues occurring shortly there after – see the links below.
[ad]
This surprising move by the US Environmental Protection Agency will only apply to around 67,000 vehicles, a very small number compared to the total number of vehicles affected. This will allow VW to "off load" cars purchased under the buy back scheme to unknowing owners. Cars included in the new ruling include the following models powered by the blighted 2.0 litre TDI engine. These include:
VW Beetle
VW Golf
VW Golf SportWagen
VW Jetta
VW Passat
Audi A3
VW have already confirmed that going forward they will no longer be selling new diesel vehicles over in the US. This doesn't come as a surprise considering they have put aside a staggering $24 billion to cover costs and fines related to the scandal.
Should I buy one?!
Our advice to any unsuspecting "would be" buyer over in the US is to steer clear of these so called "fixed" VW diesel vehicles. Even with replacement EGR valves and DPF filters, they will be subject to the same issues seen here in the UK. They will still be over stretching the limits of the EGR valve usage with the resulting diesel PM (particulate matter) increasing at least two fold, drastically shortening the life of the diesel particulate filter. It certainly isn't the magic fix that VW have fooled governments and regulators into believing.
You can read more about the fix on the EPA website – Statement: EPA and California Air Resources Board Approve Remedy to Reduce Excess NOx Emissions from Generation 3 2.0-Liter Diesel Vehicles
If you've been affected by the VW emissions scandal then please do let us know in the comments – I'll do my best to reply to all comments. We're also collecting details of owners experiences in our VW Emissions survey – please take the time to fill it in.
Read more!
If you've found this article helpful you might also like to read our other dieselgate – VW emissions fix articles
[amazon_link asins='B00BKC9LHA,B00P6J976I,B013R9O6KK,B00P2GSRY8,B011CA1YOC,B013RA6CNI,B017LY5VZ6,B013R9O6KK,B01J7QMT88,B013R9XDXG' template='ProductCarousel' store='hypermiler-21′ marketplace='UK' link_id='13e59e87-1611-11e7-8d8f-c93be95c09e2′]