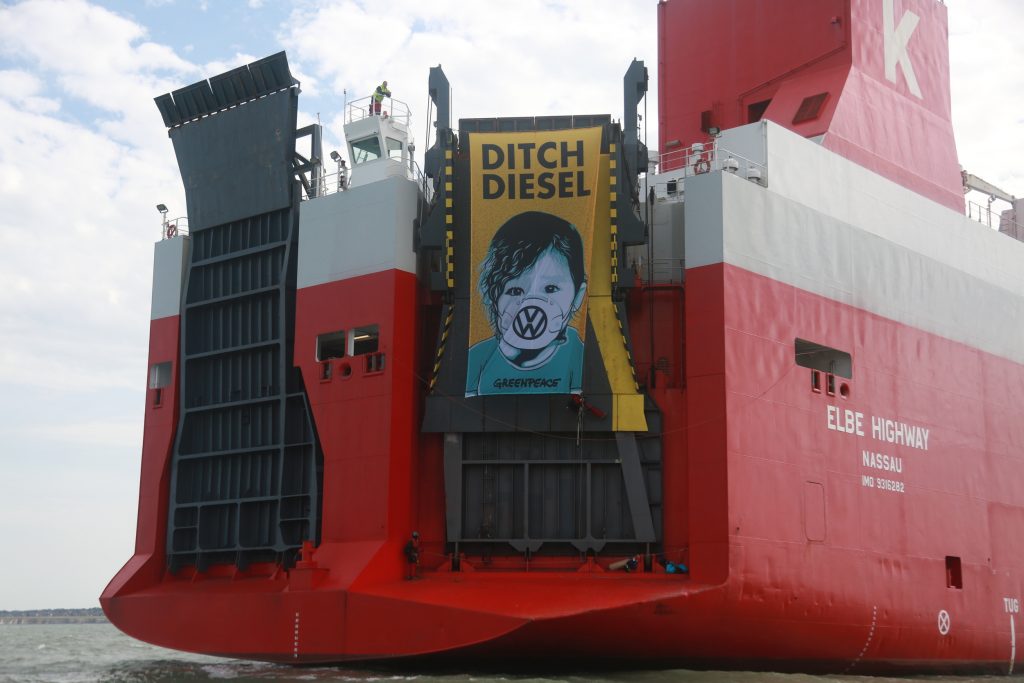 Greenpeace protesters have stormed ship delivering Volkswagen diesel cars in an attempt to block it from unloading its precious vehicular cargo.
The ship, Elbe Highway, a 23,000-tonne ship vessel was boarded by activists at around 9AM this morning at Sheerness port in Kent. Their aim was to block the ship from unloading a large number of Volkswagen vehicles, causing it to return to the motherland Germany.
A further 40 activists stormed the port and removed thousands of car keys in a bid to immobilise them. In a video released by Greenpeace, the group were seen lifting the bonnets and labelling the engines with messages from 8,000 Greenpeace supporters, including many car owners, calling on VW to ditch diesel.
The ship is currently anchored off Margate but is due to return to Sheerness port tomorrow morning. Reports suggest that at least two activists are still held up on the ship and will spend the night on a port gantry.
We understand that some activists have been arrested for trespass and suspicion of entering a vessel.
In a statement, a Volkswagen said: "We are aware of a protest this morning at the Sheerness port in Kent. The ship contains a variety of Volkswagen Group vehicles, including petrol, diesel and plug-in hybrid models. The diesel vehicles, which are the subject of the protest, meet strict Euro-6 standards."
We applaud you!
This daring "raid" by Greenpeace is exactly what Volkswagen did not need right now. The emissions scandal has already rocked consumer confidence in the brand after leaving many facing huge bills for mechanical failures following the botched "emissions software update". This action will go further to highlight both the negative impact that diesel cars have on the environment and VW's despicable actions surrounding emissions cheating. In what is proving to be a very tough time for UK car sales we just hope that VW gets the message loud and clear.
We'll update you in the morning with further details of the protest.
More information can be found on the Greenpeace website
Let us know what you think in the comments below
Read more about our coverage of the emissions scandal: