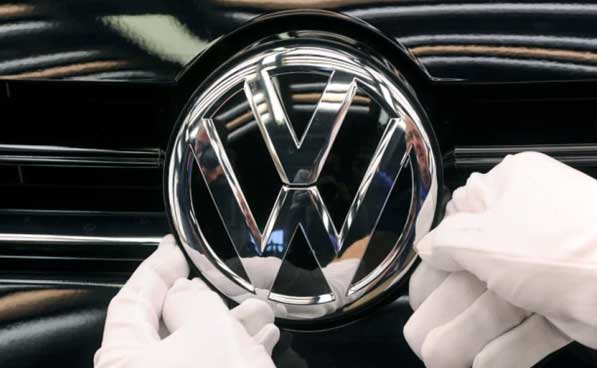 As the media attention hots up around the so called VW VAG emissions "fix", one aspect that has been greatly overlooked is the danger that failing vehicles pose on our roads.
We've been contacted by a number of owners who have had EGR / DPF failures resulting in the vehicles entering "limp mode" during normal driving conditions. This "limp" mode is caused by an error generated by an engine component / sensor which in turn greatly reduces vehicle performance. This is achieved in modern diesel vehicles by reducing fueling and turbo operation.
When travelling at speed, sudden loss of power is not only frightening but it also poses a huge danger to other road users and pedestrians. The loss of power could result in a legitimate maneuver being a downright dangerous one.
Just how common is EGR failure after the fix?
This is been one of the hottest topics on our website of late, in fact while I was typing this article we received the following comment on our post covering that exact topic. The Volkswagen Group is systematically refunding owners for EGR failures after the emissions "fix"
I had my 2011 Golf updated last week, and driving home from work this evening, I lost nearly all power and juddered to 20 mph, with the Glow Plug light flashing and the message: "Error: Stop Start" and "Engine:Workshop!"
EGR failure accounted for 66.9% of the issues reported "post fix" in our VW emissions survey, and has proven to be the single biggest complaint following the fix as seen in our comments. You can read more about EGR failures in the links are the bottom of this article.
[ad]
Owners experiences
Lets hear owners experiences of "limp mode", you'll soon understand what a frightening ordeal it can be.
This owner got in touch after my request for experiences on The Volkswagen Diesel Customer Forum (Emissions Scandal) facebook group
Hi Karl regarding a close call, has fix done driving home in my car with my 9 year old son lost power on a blind bend going up a pretty steep hill!! I have been in the sun newspaper not sure whether u have seen that some of my details r on that
These other owners reached out with similar experiences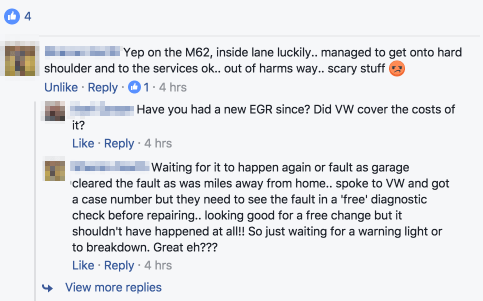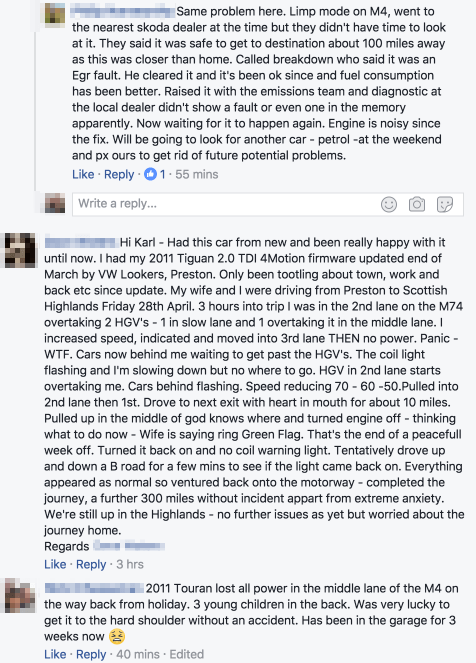 Its only a matter of time
With potentially thousands of vehicles ready to fail at a moment's notice, it's only a matter of time until the emissions fix claims it's first innocent victim/s. With blood on VW's hands will our inept government take action and should it really take such a horrific and avoidable accident to prompt action?
I point blank to drive or be driven in a car that has been "fixed"
I for one wouldn't even consider putting myself in that position to the extent that I point blank to drive or be driven in a car that has been "fixed" by VW. In fact I go as far as to give 2006 – 2015 VAG vehicles a bit more distance in front if I'm following them.
What to do if your car goes into "limp mode" while driving
The most important thing to do if your car enters "limp mode" during driving is not to panic. Do not make any sudden changing in direction and certainly don't jump on the brakes. Put your hazard lights on and try to coast / limp your vehicles to a safe position. If can't find a hard shoulder or place of refuge take all safety precautions possible and leave the vehicle by the side of the road. Be sure to open your bonnet or boot to indicate that you are in need of assistance. If your car poses a danger to other road users then call the emergency services.
Join the Facebook Group!
If you're one of the many owners affected by the emissions fix then please do join the The Volkswagen Diesel Customer Forum (Emissions Scandal) Facebook group. https://www.facebook.com/groups/955027937948541 – The group members and the hard working admin team work tirelessly to raise the profile of group to secure justice for those affected.
Lets hear from you
Have you been affected by the VW emissions fix? Did you have a similar experience with "limp mode" which could have ended badly? Please do leave a comment below
Read more!
If you've found this article helpful you might also like to read our other dieselgate – VW emissions fix articles
[amazon_link asins='B00BKC9LHA,B00904I9W8,B00TYF1EUC,B00P6J976I,B01M0DE9AS' template='ProductCarousel' store='hypermiler-21′ marketplace='UK' link_id='f1a93e4c-1b00-11e7-a367-eb6aad656cd3′]