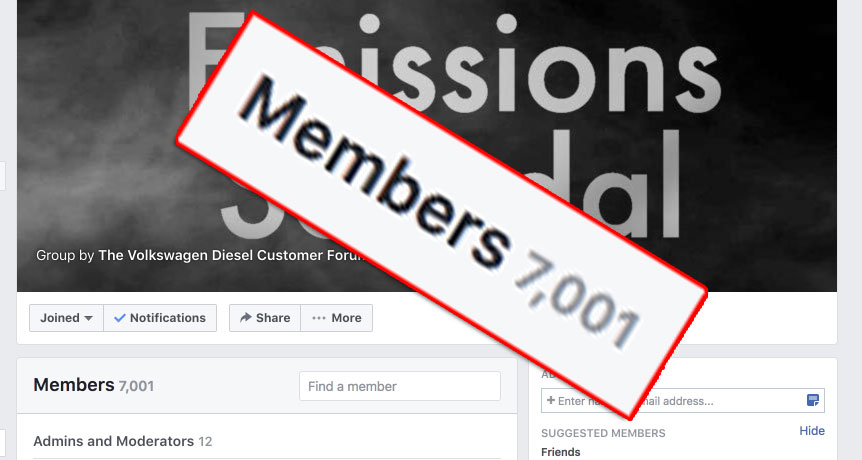 Let's face it, the VW are no longer able to contain the lies and deceit that has plagued the car maker since "dieselgate" hit the headlines.
It's not just some petty corporate figure fiddling either, the issue has left some owners thousands of pounds out of pocket and without their cars for weeks on end whilst the VW Group denies any responsibility.
The Volkswagen Diesel Customer Forum (Emissions Scandal) has set to change this. They have worked tirelessly highlighting these issues to the public and press all whilst lobbying government into taking action against VW in order to seek justice for owners affected by the emissions recall.
With over 7000 members under it's belt, its clear that this issue just won't go away. On a daily basis owners are reporting EGR failures, DPF blockages, fueling failures and all for what? We're no clearer about the true effects of the emissions update, the KBA continues shrug its shoulders over the matter and our pathetic government are too busy taking corporate backhanders from the disgraced car maker and its team of slimey lobbyists. In fact, figures from show that in 2016 Volkswagen spent a whopping 2.66 million euros lobbying in the EU (source).
This is all while the Volkswagen Group continues its profitable growth. Figures from their 2017 interim report (here) report their sales revenue has grown year-on-year to EUR 170.9 billion with it's operating profit before special items climbs to EUR 13.2 billion. Thats not pocket change. They are litterally earning money off the back of the owners that once trusted them. Its a f**king disgrace.
We wholeheartedly applaud the admin team and the 7000+ members of the Volkswagen Diesel Customer Forum (Emissions Scandal) group. Their efforts haven't gone unnoticed despite what you might read in the biased press. Keep up the good fight, we're happy to do what we can in aid of your cause and help bring justice to the tens of thousands of owners left out of pocket.
If you're affected by the recall then please do take the time to join up and express your feelings about the issue and how its affected you. Click for The Volkswagen Diesel Customer Forum (Emissions Scandal)
[ad]
Let's here from you!
Have you been affected by the emissions recall? What can be done to bring VW to account? What the best course of action?. Let us know in the comments below.
Read more!
If you've found this article helpful you might also like to read our other dieselgate – VW emissions fix articles
[amazon_link asins='B00VVWW5S6,B06WWBJWSK,B013KIPT2C,B06WW5KKYV,B01MG1OEZ7,B01N5NNFTA,B01GYCO20Q,B014WMMNTW,B01081ZS1G' template='ProductCarousel' store='hypermiler-21′ marketplace='UK' link_id='4d196b8f-bfca-11e7-ad2e-794b99a25756′]