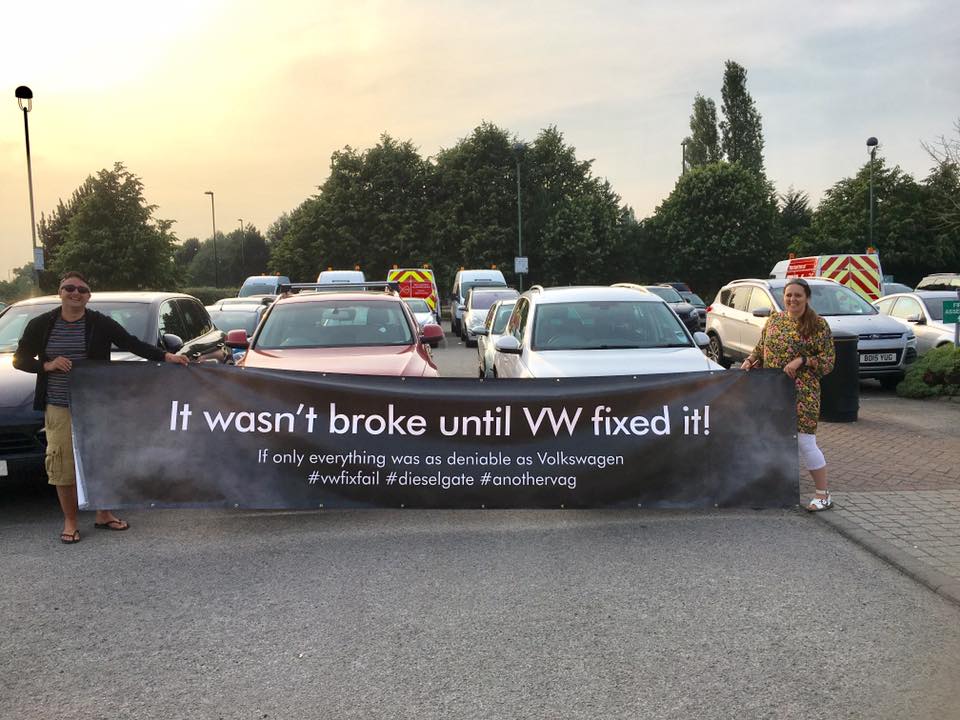 Its been over two years since we invited owners affected by the VW Emissions fix to fill out our VW Emissions Fix survey, after a whopping 3,041 responses – the final results are in.
Before we dive into the details, here are the figures which really stand out
87.7% owners experienced issues with their car post fix.
20.7% report having issues immediately after the fix was applied to their vehicle
66.2% of the reported issues related to the EGR valve failing
70.7% of dealers denied the fix was the cause of reported issues yet over
50% of owners had their cars fixed as "good will"
37.9% of owners paid more than £500 for repairs
3.5% of owners paid more than £2000 in repairs
60.4% of owners reported a reduction of power after the fix was applied
72% would not by another VW Group vehicle
95.1% would NOT recommend a friend to have the emissions fix applied
What's more damning is that the survey represents (at least)
£560,852 in repairs
That's over half a million pounds that has lined the pockets of the VAG group and their dealership network as a direct result of their emissions cheating.
To say I'm gobsmacked is a ****ing understatement and that's only a fraction of the 1.2 million cars the VW Group recalled in the UK – or 0.25% to be exact.
With such a tiny cross-section of the total number of cars recalled, half a million pound could be a drop in the ocean compared to the actual cost to UK VW Group car owners.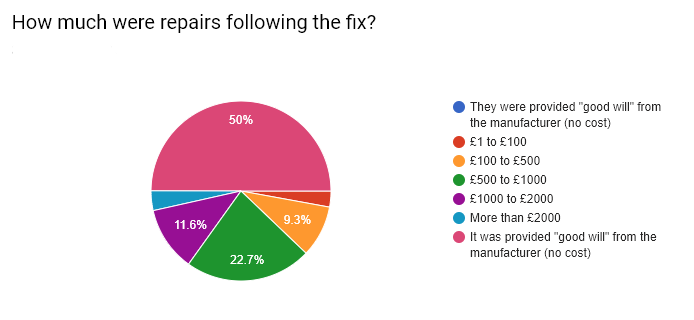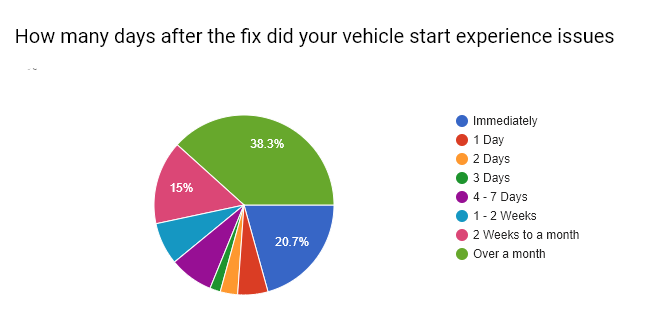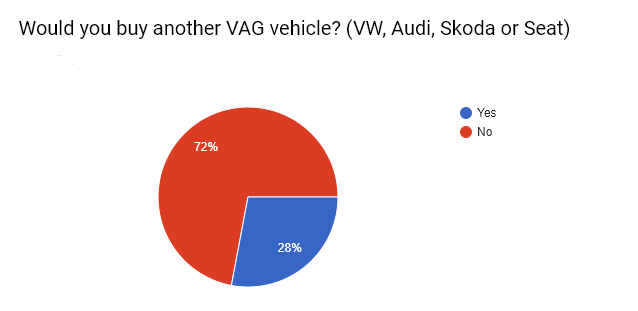 Owners have spoken
The survey invited owners to have their say. Here's just a small selection of what they had to say
"I had egr valve replaced after power loss 2 months after fix.it was repaired by private garage close to home,did not realise there was a link."
"I haven't yet had the letter inviting me to have my Yeti "fixed" but, after reading all the scare stories, I don't intend to have it done. Why risk ruining a perfectly good engine for something that, at best, is of no value to me as the owner? My local Skoda/VW service agent (Carrs at Indian Queens) has given me the VW-approved spiel "We've done more than two hundred of these fixes with no reported problems". I don't believe them."
"DONT DO IT, MY CAR WAS PERFECT BEFORE, NOW IT'S JUST HORRIBLE!"
"Vw polo went into limp mode immediately fix.Found to be EGR failure, was told it would be weeks before part available. When I insisted dealership agreed to courtesy car to cover the wait. Car fixed after 4 weeks. I paid £45. No admission of fault, just a 'good will gesture' ( Cumberland View VW Lancaster dealership). No more VWs for me!"
"I'm on a PCP and have asked Audi to take the car back and terminate the agreement and I'll call it quits. Yet to hear back after two weeks of chasing every 4 days. Radio silence, it seems."
"Where do you start lol. Bought car from dealership & was told categorically it wouldn't be affected by Emmisions scandal, what a surprise that was a lie. Had the fix & engine management light came on on way home followed by going into limp mode & noisy engine. Taken back in next day (Only just made it) was then told that it was my fault as I'd put petrol in it, funny that considering it was fine the day before & I hadn't put any fuel in it for a week. Anyway, they couldn't provide a fuel sample (no shock there). They told me id need a new fuel pump at £400 or so. They git told there was no way i was paying. Over the next 8 days & after changing from the service manager to the after sales manager (Due to him being rude & clueless) we were told it was ready for collection. They'd replaced the fuel pump & all 4 injectors, 17 litres of fuel to flush the system + a full tank of fuel afterwards + filters. In total nearly £1500. I was ready for another argument as far as payment goes but before I could say anything the manager (Steve) held his hands up & said he'd been onto head office & they told him this had happened to other people's vehicles after the update so there would be no charge. I'm happy we didn't have to pay anything (not that I would of anyway) It's the being lied to in the beginning about the wrong fuel etc that really annoys me. After everything we've been through & uneccasaraly, because of greed, we (everyone affected like us) should be compensated"
"Not happy"
"I wish I had never had it done"
We have a total of 1217 responses just like the comments above. Not one of them has a good word to say about the VAG group. Quite rightly so.
The future isn't bright
The results show that over 50% of owners had their cars fixed as "good will" or what was later spun as "Trust Building Measures" by the VW group after the initial backlash by owners. The measures provide "coverage" for issues relating to a number of issues owners could face post fix. In their own words they would consider any complaints that are established to have arisen as a result of the implementation of the technical measure on vehicles with EA189 type diesel engines
Note the use of the word "consider". More on that here – VW Trust building measures
With that time well and truly passed for most owners, just how long until the long term issues relating to the fix raise their ugly head. EGR valve failure isn't the only thing owners have to worry about, issues relating to the DPF filter are likely to arise as a direct result of the what was supposedly "fixed" by VW. Just remember that DPFs are not covered by the trust building measures and by vehicle warranties FULL STOP.
With that in mind, would I buy an affected VW Group car which had the emissions fix applied? Never EVER as Taylor would say.
Is this the end?
We've been overwhelmed with the feedback we've had of our coverage of the fix, phone calls, emails and some rather passionate comments to our articles covering the topic.
Legal action is still underway in the UK. Despite some setbacks, a number of legal firms are still fighting for what they claim is justice for owners. In fact, like VW themselves they are just out to line their own pockets through the misery of owners.
We'll continue to offer our support to owners still suffering at the hands of the VW emissions fix. We've covered the topic in detail (see our articles below) and will continue to highlight the injustice owners face.
If you've been affected by the VW Emissions fix in any way – we strongly suggest that you join The Volkswagen Diesel Customer Forum (Emissions Scandal) it's full of thousands of other owners (7405 at time of publication). Please also do comment below your experiences with the fix and share this article on social media.
Media contacts
We'd be happy to share the results of the survey with media outlets wishing to cover the results of our survey. Email karl (at) Hypermiler.co.uk for more information.
Read more!
If you've found this article helpful you might also like to read our other dieselgate – VW emissions fix articles