Using launch control in your Skoda Octavia VRS Mk3 III isn't exactly as easy as just holding the brake and accelerator. To help the confusion we've put together this guide on how to use this feature and maximize your traffic light launches.
Take the following steps to enable launch control
Put the gearbox into "sport mode" – pull back on the gear lever or put the car in VRS mode
Disable traction control (TCS) – press and hold the button with the symbol as below in the centre console

Disable start-stop system by pressing the button below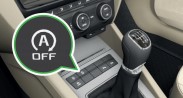 Fully press and hold the brake pedal with your left foot
Fully press and hold the accelerator pedal with your right foot and wait for the revs to climb
Release the brake pedal and hold on!!
If you feel the car trying to push against the brakes then you might have performed the steps correctly as above. Please also remember that using launch control can cause additional wear and tear on engine components, use it at your own risk.
We'd suggest not trying to use this feature on wet / greasy or poor surfaces. With the traction control disabled, all your hear work setting your car up for a launch will result in clouds of tyre smoke and little else.
Can you enable launch control on a manual car?
Sorry gear stick purists, this feature is only available on automatic cars which feature the DSG gearbox (that's all Mk3 Skoda autos for anyone interested)
We have taken these steps from our highly popular article which contains links to the Skoda Octavia MK3 owners manual. We also have links to the Skoda Octavia MK3 III workshop manuals for download – enjoy!
Let's hear from you
What's your experience with launch control in your Skoda Octavia VRS? Have you timed the difference between a "proper" launch and just flooring it? Let us know in the comments below
More on the Skoda Octavia